Why Be Agile Now?
Marketing is changing. There's no time to waste. We live in a constantly changing, globally connected, and "always on" world and the speed at which business decisions are needed today can't be underestimated. This transformation is happening at an unprecedented pace….and it's only accelerating.
Add to that acceleration the fact that the business landscape of 2016 is infinitely more complex than previous years and massive global trends like the explosion of digital, the strengthening of the consumer's power, and BIG data have disrupted everything.
"In the advanced world that we live in, it's not the big fish that eats the small fish;
it's the fast fish that eats the slow fish."
Klaus Schwab, founder and Executive Chairman of the World Economic Forum
Furthermore, the new customer journey is self-directed, begins without notice and criss-crosses multiple channels. Marketers today need to collect and leverage customer information and proactively collaborate with stakeholders to optimize engagement with the customer throughout their journey. All industries are feeling the impact of the modern world and and no marketing group is immune to the extreme pressure of uncertainty and rapid change.
With all that, is it any wonder marketers are looking for ways to be better? Webster's Dictionary defines Agile as "marked by a ready ability to move with quick, easy grace. Having a resourceful and adaptable character." Juxtapose that definition with the challenges marketers are facing in this fast paced world and it becomes clear why the time for Agile is now.
What is the Agile for Marketing Operating System™?
Simply put, the Agile for Marketing (A4M) Operating System is a mindset and a methodology. It is designed to impact organizational effectiveness.
It aligns teams on priorities that will have the biggest impact on the business.
It transforms individuals working on tasks into empowered teams achieving prioritized goals.
It applies customer data to make informed decisions and rapid learning cycles versus long drawn-out plans.
The result is a series of continuous improvements that can lead to sustained performance gains.
Read how CMG helped an influential global tech and media company improve market performance across product lines
Traditional, status-quo marketing has long planning cycles and lead times and does not build in the flexibility to change. Agile for Marketing is designed to manage change and enable iterative and adaptive delivery so marketers can easily shift to meet changing needs.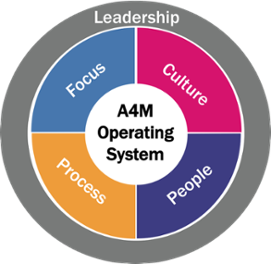 To know if your organization is ready for Agile it's important to understand the 5 components of the A4M Operating System (Focus, People, Processes, Culture and Leadership). In this content series we'll take you through each of these key components, explain why it's a critical piece to successful adoption of Agile and give ideas that you can immediately bring to your team.
Our goal is simple: we want to provide aspiring agile marketers the information they need to begin to their journey. Sign up now to join the agile marketing movement, to receive this content series and be the first to preview the Agile for Marketing Operating System.
Get Ready. Be Agile.
Continue reading our content series:
Part 2 of 6: Anchoring Your Agile For Marketing Efforts With Focus
Part 3 of 6: Agile For Marketing Success Depends On The Right People
Part 4 of 6: Establishing An Agile For Marketing Culture
Part 5 of 6: The Crucial Role of Process in Agile Marketing
Part 6 of 6: Leadership: the Master Key to Success with Agile Marketing
Keep Up With Our Agile For Marketing Operating System Blog Series