Agile For Marketing Success Depends on the Right People
Agility is as much a personal mindset as it is an organizational one. Agile marketing is structured around the idea of highly collaborative, jointly accountable teams. Teams work together to improve the effectiveness of marketing efforts and to achieve the right commercial outcomes. The real difference is that they are empowered to reach these goals in the best way they see fit. As a result, agile marketing teams are more engaged, have a better understanding their contribution, and contribute in more ways to the greater goals of marketing. These human improvements can bring significant benefits given the estimated $500 billion dollars lost in the US each year due to employee disengagement.1
In moving to Agile, three key tenants should be considered for your people: structure, capabilities and talent development. Systematically addressing each of these tenants will ensure your agile marketing teams are set up for success.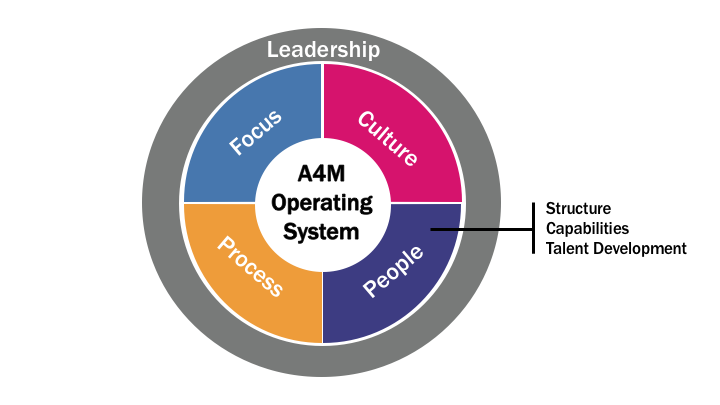 Structure
Care and consideration must be given to how you structure your teams. Your program should be based on both desired commercial outcomes and establishing a strong, lasting customer-centric approach to marketing. Many organizations use agile in functional teams, and this is often necessary given team size and capabilities. However, we've also seen great benefit in putting together cross-functional teams supporting major products, customer segments, or initiatives. Consideration should be given to which teams will perform best as cross-functional and which should be more of a shared-service agile team.
Role clarity is an important consideration when using the agile methodology because organizational structure and work process are dramatically different than more traditional approaches. "Self-managed projects is a different way, because Agile is not just 'let's do what we were doing before and do it faster,'" explains the VP of a leading virtual meetings provider. "You need individuals to adapt to the new roles that are required in an Agile process. Can your project manager in the previous role all of the sudden be your marketing Scrum Master? Maybe, maybe not. So you've got to put the right people in the right roles and you've got to be very cognizant of what those roles and responsibilities are as it relates to the new framework."2
Consider your marketing group today. It's likely that you have informal teams and communities. For example, you may have a functional team based on core competencies or areas of expertise (e.g. creative, digital). You might also have communities around practices where team members work together to advance strategic areas like CX, Customer Insights/Understanding, Digital or Innovation.
Agile teams are created to focus on the best way to solve a problem and achieve the desired outcome. Each team has a mission and goals directly tied to organizational strategy and marketing group goals. With a clear understanding of shared goals and priorities, the team decides how best to achieve those goals and get the work done.
Capabilities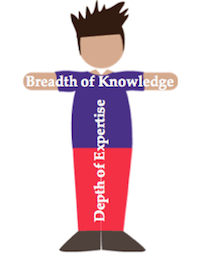 Part of what makes agile marketing teams thrive is the ability of team members to move from "that's not my job" to "we collectively own the results and output." In other words, team members will come to put the good of the team over individual areas of expertise and to stretch into new areas (i.e. T-shaped people). Individuals who can grow the breadth of contribution to a team while maintaining their depth of specific expertise are highly successful on agile teams.
That being said, putting the right people in the right roles and empowering them to work together to drive commercial results is the starting point. Identifying the people who will stretch themselves and embrace the new way of working will also help yield early success.
There are three primary roles within an Agile team:
Business Owner
Responsible for achievement of program goals and objectives
Leads prioritization and determines work to be done first; makes trade-offs to balance scope of work
Strategic-minded leader, effectively communicates the team vision and priorities
Scrum Master
Supports business owner in setting priorities for the team
Responsible for the effectiveness and efficiency of the team.
A good communicator, able to facilitate problem solving and coach team members
Delivery Team Member
Focused on execution and delivery required to produce the desired outcome
Motivated to reach goals with best solution, and try new ones
Self-starter, entrepreneurial and solution-minded individual
Agile Marketing teams are organized and operate in ways that violate the assumptions made in current operating models. Teams are self-managed, titles are set aside, and hierarchy is flattened as much as possible. Getting the right teams assembled at the beginning and having the flexibility to make changes as you learn what works (and what doesn't) is critical.
Talent Development
To stand up agile for marketing, marketing leaders need to think through how agile will fit talent development plans and advancement of team members. Agile in and of itself is a new way of working and thinking which should elevate team member performance. It may also reveal individuals who struggle with this new transparent, collaborative method.
Talent development within the Agile Operating system is centered around two key areas:
1) Development of "T-shaped" people. Establishing a way to cross train team members so they can contribute more fully, while still growing competency in their functional area of expertise.
2) Development and communications of a roadmap for how teams and individuals advance in the new environment.
Leaders will have to define what it means to be a high-performing agile team member and communicate which skills are necessary to develop into a scrum master or business owner. Providing a development plan and path for team members is an important piece of the Agile puzzle.
"An organization's ability to learn—and translate that learning into action rapidly—is the
ultimate competitive advantage." – Jack Welch
Business success is often determined by the people within a given organization. Your people must continually learn and take action to create competitive advantage. As you are think about your Agile Operating System, don't discount the work necessary to ensure that you have the right human structure in place with clear roles and responsibilities and an understanding of career progression. Adopting agile goes far beyond using the process. Your people will take you over the finish line. So make sure you do the work to optimally structure your organization with the right people, in the right roles, working together toward your goals.
Continue reading our content series:
Part 1 of 6: An Introduction To Our Agile For Marketing Operating System
Part 2 of 6: Anchoring Your Agile For Marketing Efforts With Focus
Part 4 of 6: Establishing An Agile For Marketing Culture
Part 5 of 6: The Crucial Role of Process in Agile Marketing
Part 6 of 6: Leadership: the Master Key to Success with Agile Marketing
Sources:
(1) https://www.officevibe.com/blog/disturbing-employee-engagement-infographic
(2) http://blog.cmgpartners.com/the-agile-advantage-pt.-2-the-methodology
Keep Up With Our Agile For Marketing Operating System Blog Series