Scaling Agile into the Enterprise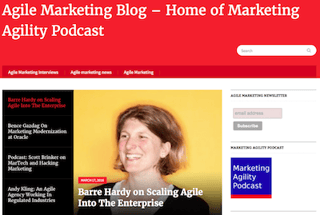 Our associate partner of strategy and marketing performance, Barre Hardy, was a recent guest on the Marketing Agility podcast. The podcast is a great resource for conversations about about the application of agile and other progressive marketing techniques.
The podcast hosts and agile marketing pioneers, Frank Days and Roland Smart, talked to Barre about how she's worked with enterprise companies to learn agile and scale it across large marketing organizations. She explained how CMG has helped companies to pilot agile marketing, then use learnings from those pilot projects to scale the approach across the organization's larger sized marketing teams.
The conversation is interesting and informative and lasts :29 minutes. The perfect amount of time for your commute or to walk your dog and learn about scaling Agile for success.